Jacksonville Property Management Blog
How to Be a Good Landlord | Jacksonville Property Management Tips
04-05-2017
Wanda
Property Management Education
05-03-2017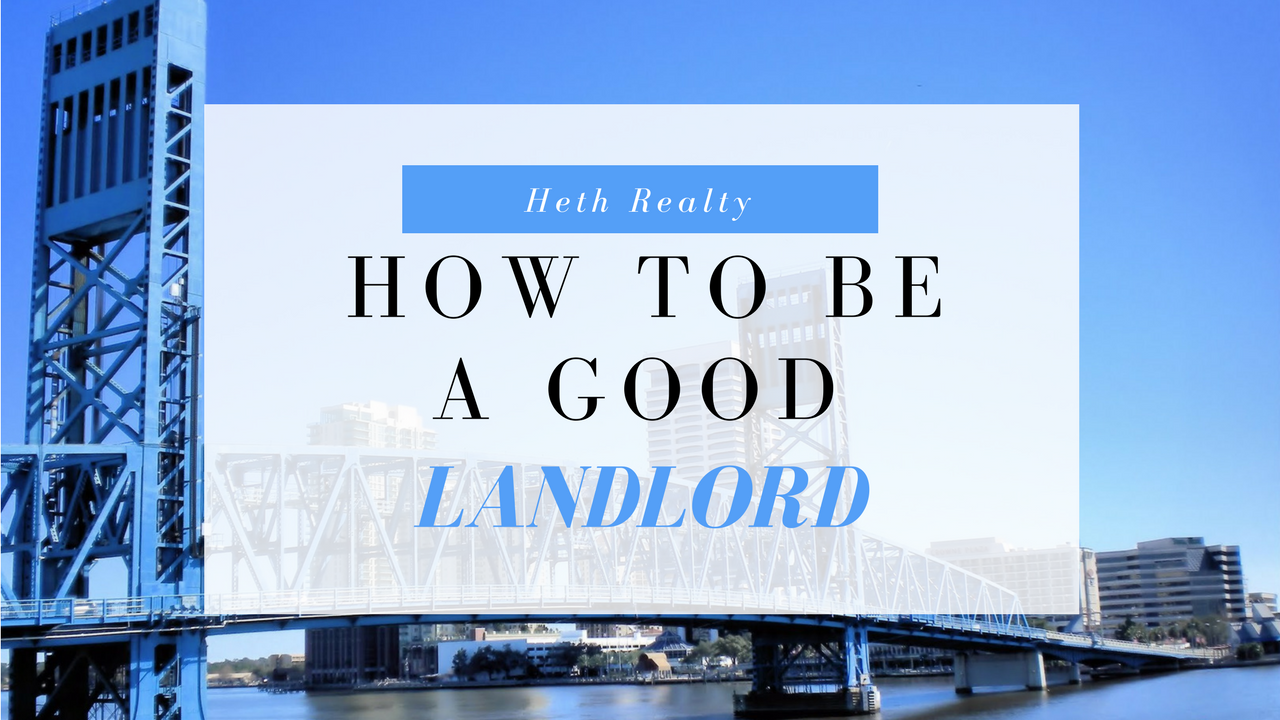 When you want to keep great tenants in your property for the long-term and protect its condition, you must know how to be a good landlord. Being a good landlord doesn't mean you'll develop a personal friendship with your tenants or let them get away with whatever they want. It means being consistent, fair, and responsive.
Good Landlords Communicate
Communication is critical, and a good landlord will communicate well with tenants, vendors and contractors, as well as HOAs and other public officials. Make sure you are available and responsive. When you're signing the lease with your tenant, go over it in detail. Let your tenants know what they will be responsible for and what you expect during the term of the tenancy. Answer any questions and provide your contact information so they know how to reach you, especially in emergencies. Keep in touch with your tenants. You don't have to bother them, but you can send them reminders to change their air filters or check in via email to see if things are going well.
Good Landlords Have Procedures
Tenants perform best when they know what to expect. Good landlords will have consistent policies and procedures in place, and they will follow them. If you attach a late fee to rental payments that aren't in by the third of the month, for example, make sure you collect that fee. You have to follow the terms of the lease, and you need to let your tenants know that you're serious about what you've said. If you promise to respond to all maintenance requests within 24 hours, make sure you do that. When you say you're going to schedule a property inspection every six months, make sure you show up for it.
Good Landlords are Fair
When a responsible tenant runs into trouble one month and is late with rent, a good landlord will be understanding. You can still serve the three-day notice and require that the late fee be paid, but you can also make an arrangement that will help the tenant catch up. If a tenant requests new carpet or an upgraded appliance, be willing to hear their reasons. Maybe you can offer it in exchange for a lease renewal. When it's time to renew the lease and the rental market is competitive, consider not raising the rent on a tenant who is following the lease terms, paying rent on time, and maintaining the home. Tenants will appreciate the fair treatment they receive from you, and it will encourage them to stay longer.
These are just a few tips on how to be a good landlord. We can help you with a lot of other ideas, so please don't hesitate to contact us at Heth Realty for all your Jacksonville property management needs.


Mastering the Art of DIY Home Inspections
Buying Off-Market Properties
The Real Estate Language
Finding your dream Home
The Art of Home STaging
Selling a home
Safety
Buying a new home
Ways a Fence can Enhance Your Outdoor Space
Warning Signs You Need a New Real Estate Agent
Biggest Benefits of Selling Your Home Discreetly
Buyer Remorse
6 projects that can ruin your home's value
Key Things to Negotiate When Buying a Home
Curb Appeal
Moving to Jacksonville
Buying a House
Renting with Roommates
7 Easy Rental Upgrades
Retire in Jacksonville, FL
Nursing Homes in Florida
Why Jacksonville is Perfect for Young Professionals
Pets in a rental property
Fall Maintenance Tips
Good Property Manager
Rental Property Renovations
Furnished vs. Unfurnished Rentals
Prevent Tenant Damage
Tips for Landords
7 Reasons Why Renting Could be Better
Attract Quality Tenants
How Sober Living House Can Add Value to a Neighborhood
Tenant-Proof your rental
How to Maintain a Good Relationship With Your Tenants
Best Long Distance Moving Companies
7 Best Long-Distance Moving Companies
Top 6 Jacksonville Area Suburbs for Young Families
House Hunting Tips after you Retire
Why Jacksonville is one of the best places to live in the US
Tips for Long-Distance Apartment Hunting
Most Popular Jacksonville Neighborhoods
6 signs it's time to replace your HVAC system
COVID 19
Property Management Education
Rental Property Maintenance in Jacksonville
Landlord Tenant Law
Tenant Eviction
Rental Maintenance
Rent Collection
Security Deposits
Setting the Right Rental Price
Getting Rent Ready
Company
Mastering the Art of DIY Home Inspections: What Every Buyer Should Know
Buying Off-Market Properties
The Real Estate Language; Key Terms and Concepts Every Homebuyer Should Know
The Art of Home Staging: Transforming Your Property for a Quick Sale
Tanya Douglas
Tonya Douglas
Emma Williams
Nessa Brown
East Coast Haul
Old Republic Home Warranty
Wanda